Home>FACILITIES>Introduction

Daewoong Bio
Daewoong Bio API plants are located in the Baran Industrial Pharmaceutical Complex, Hwasung City, Gyeonggi-Do, South Korea. Our finished dosage form facility is located in Anseong City, Gyeonggi-Do, South Korea. Key raw material is manufactured at our Sichuan, China plant facility.
These factories are state-of-the-art, multi-product facilities constructed for cGMP compliance. Manufacturing at these factories are strictly controlled through cGMP guidelines that comply with global regulatory requirements.
If you would like to learn more about a specific factory site and its structure for manufacturing molecules, please click the pictures listed below.

cGMP 1st factory
First established Daewoong Bio manufacturing facility for the Korean domestic market with all sales based API manufacturing. This factory was designed and constructed prioritizing quality and GMP compliance receiving South Korean and overseas regulatory approval for production. Strengths
Solvent recycling facility through the installation of solvent recovery tower
1994: First US FDA for ANDA approval in South Korea
1998: First BGMP API approval in South Korea
1999: Installation of closed type filter dryer for quality improvement of sterile APIs
2003: ISO 14001 approval contributing to environmental friendly manufacturing and corporate profile

High-tech dedicated CDCA facility; 2nd Hyangnam factory
The second established Daewoong Bio factory has been continuously remodeled since its construction in 2006 and has met all GMP standard requirements in 2011. Remodeling was carried out to completely prevent any possibility of cross-contamination. Numerous filter dryers and reactors are currently operating for mass production. Vacuum dryers and Temperature Control Units (TCU) are automatically controlled above 2000 °C and has led to continuous manufacturing improvements eliminating residual solvents.

Daewoong Bio's dedication to improving Plant 2 by constructing recovery systems to reduce industrial waste represents our commitment to product quality and public health.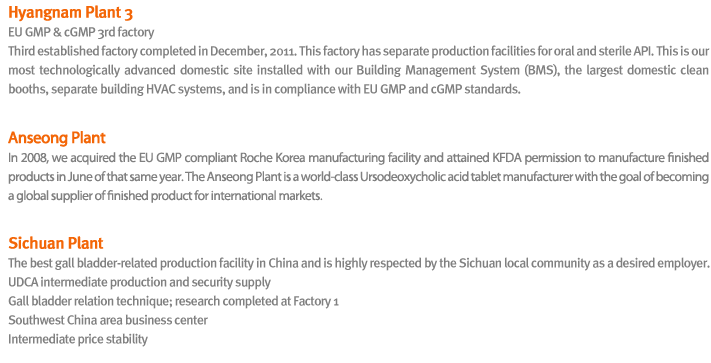 EU GMP & cGMP 3rd factory
Third established factory completed in December, 2011. This factory has separate production facilities for oral and sterile API. This is our most technologically advanced domestic site installed with our Building Management System (BMS), the largest domestic clean booths, separate building HVAC systems, and is in compliance with EU GMP and cGMP standards.
Anseong Plant
In 2008, we acquired the EU GMP compliant Roche Korea manufacturing facility and attained KFDA permission to manufacture finished products in June of that same year. The Anseong Plant is a world-class Ursodeoxycholic acid tablet manufacturer with the goal of becoming a global supplier of finished product for international markets.

Sichuan Plant
The best gall bladder-related production facility in China and is highly respected by the Sichuan local community as a desired employer.
UDCA intermediate production and security supply
Gall bladder relation technique; research completed at Factory 1
Southwest China area business center
Intermediate price stability